What are Spikes?
Spikes is the original spiked ice - flavored, alcoholic ice that keeps your beverage cold, adds flavor, and provide an extra kick of alcohol (7.5% ABV).
How do they work?
Using Spikes is super simple. Just freeze them, drop the ice in your glass, and pour your drink as usual. With our great flavors of lemon, lime, or strawberry, we routinely pour beer, wine, and cocktails over Spikes.  We continue to be amazed by their versatility.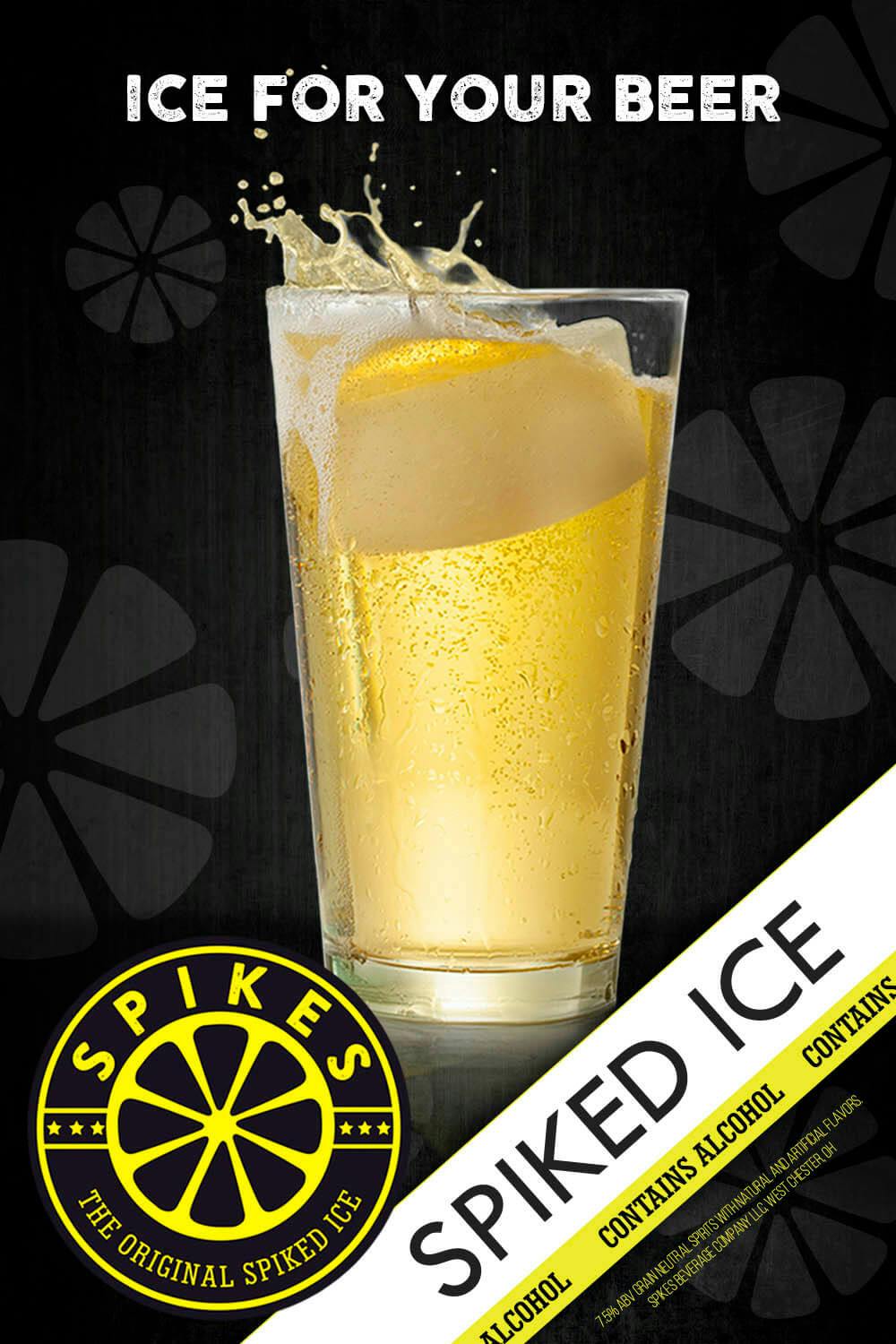 Spikes Story
After his $12 beer at a baseball game got warm in under 15 minutes, Dan had to find a solution.  He went through several prototype products before eventually bringing Brian in to help test Spikes.  What followed was a series of "R&D" sessions drinking Spiked beer on the patio.  Here we discovered an endless number of drink possibilities with some of the best beer, wine, and cocktails we've ever tasted. The patio is where Spikes was born!
The Company
Spikes Beverage Company, LLC. was founded in September 2015, and we've made great progress in two short years. We spent early months developing and designing the product in order to meet government regulations. The stringent regulatory process was finally approved in the Summer of 2017. This was followed by a test market during August 2017 in Cincinnati, OH.
Product Development
We now have a completed product that is in stores. To get here, we had to develop relationships with numerous suppliers that will help us scale.  Our supply chain is completely set up to provide all the raw ingredients, packaging, boxes, shrink wrap, etc. that we need. We are no longer in the idea stage. This product is in the market!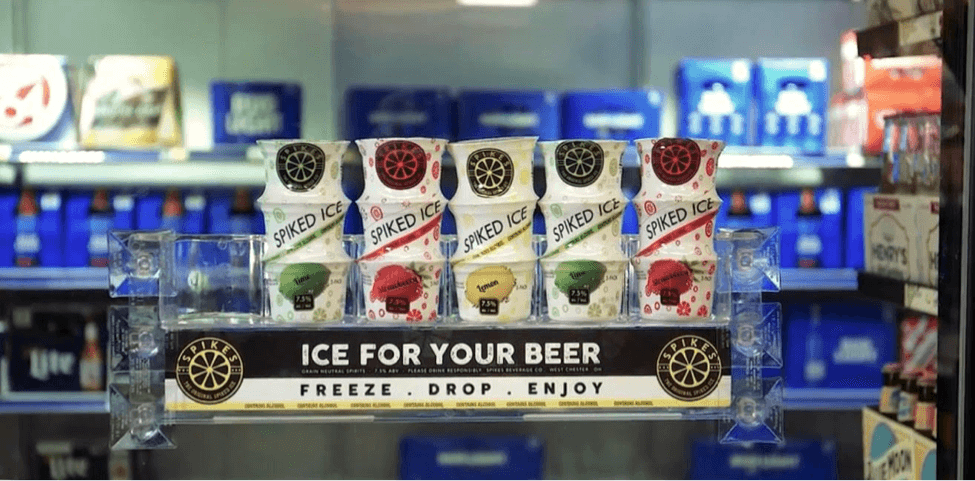 Manufacturing
We found an alcoholic beverage manufacturer willing to take on a start-up company with unique packaging. This experienced co-packer has the ability to produce Spikes on a large scale.  This will allow us to meet the demand for the product as we grow.  Importantly, it allows us to focus our resources on marketing the product instead of managing a very capital-intensive manufacturing operation.
Government Approvals
We spent almost two years getting everything approved by the federal and state governments.  The approval process was time consuming and complex. Everything had to be approved from the formulas and labels, to the distribution, operations, and even the business owners themselves.   While this long approval was important to help us stay safe, it also gives us an edge over anyone else who might think about entering this market.  Potential competition will have to go through the same rigorous and time-consuming process that we did. We have a great head start.
Test Market
We've now validated Spikes in a test market.  We have been in select convenience and liquor stores in the Cincinnati area since early August 2017. We also partnered with an Anheuser-Busch distributor to get us into one of the largest liquor stores in the country. We got great feedback from retailers and the response from consumers has been spectacular.  Spikes has numerous repeat customers, and they're bringing new customers along with them.  Needless to say, the response has given us confidence to take Spikes to the masses.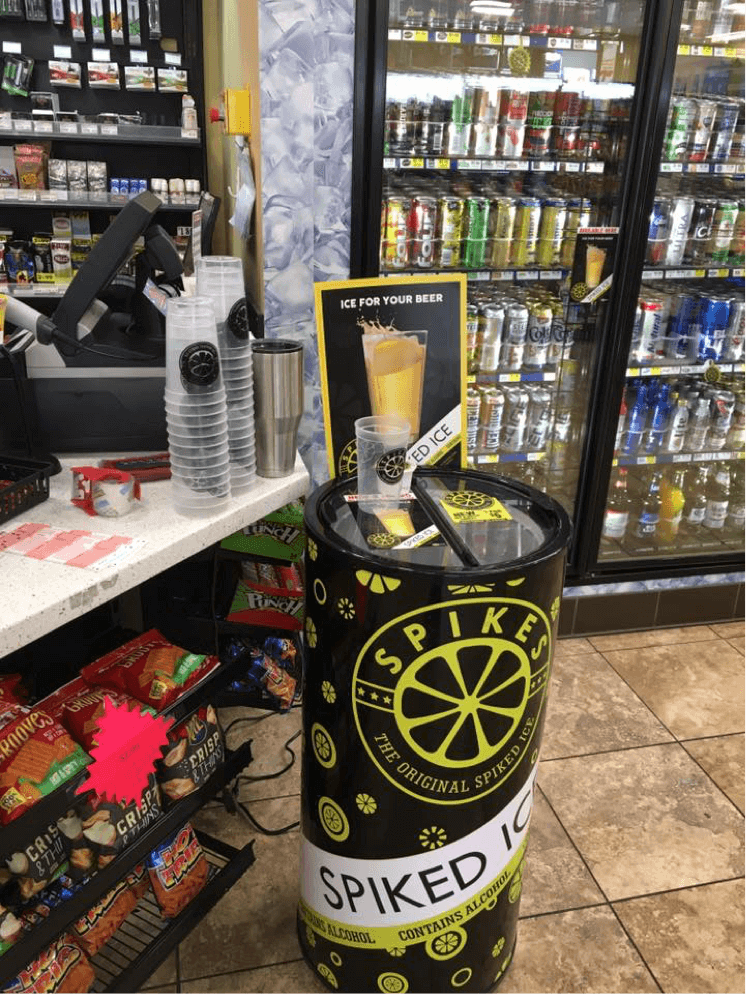 Pricing and Margins
The Company is targeting a sales price of $5 for a three-pack in retail stores, $2 per unit in restaurants/bars, and up to $3 per unit at premium events such as sports stadiums or concerts. In order to get the product to consumers, Spikes will be marked up by both a distributor and a retailer. The distributors that the Company has approached work on 25% to 33% markup (20% - 25% margin). "Off-premise" retail shops such as convenience stores and grocery stores typically have relatively low margin expectations (10% - 30%) in comparison to "on-premise" retailers like restaurants, bars, and sports stadiums that typically have relatively high margin expectations (50% - 70%). To meet the margin expectations of both on-site and off-site retailers, the Company has developed two different pricing models. The pricing is discounted to restaurants/bars as there is less packaging necessary (no shrink wrap/labels) and sales to these customers create brand awareness.
The Team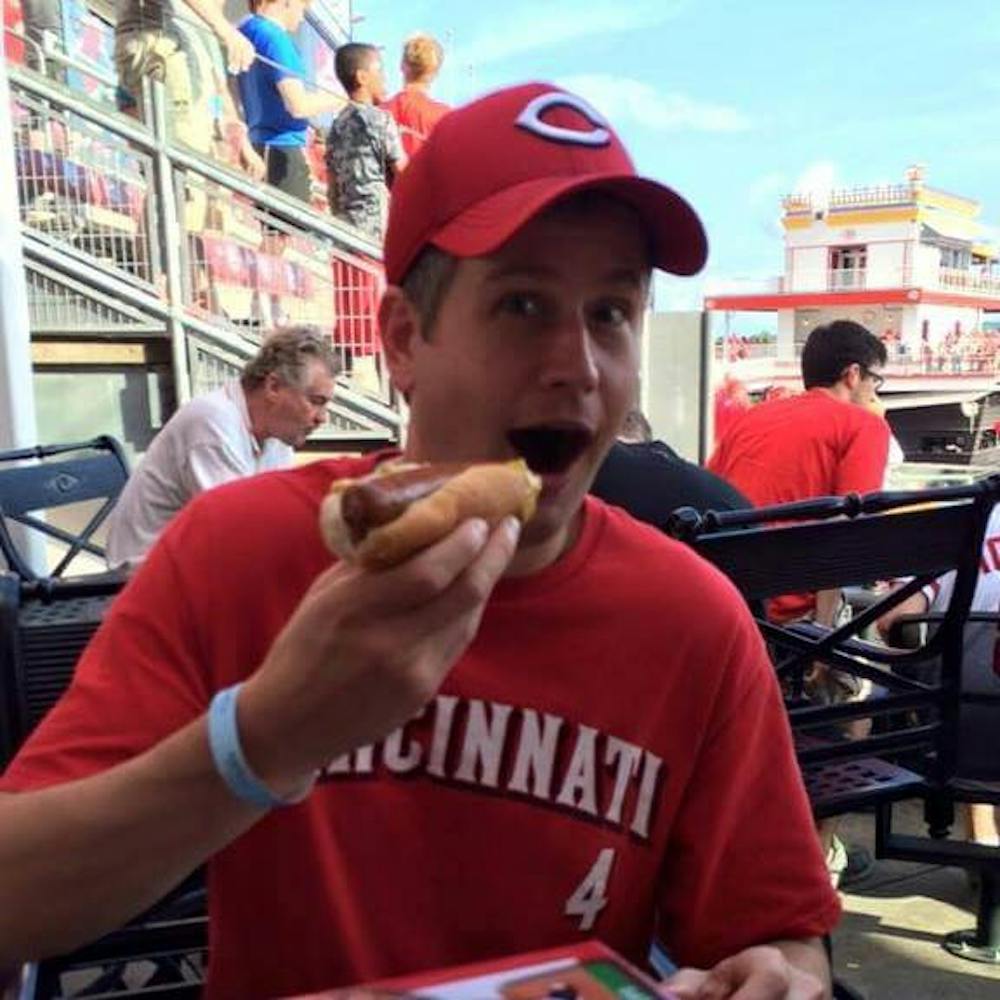 Dan Tyman
Co-Founder
Dan is the inventor of Spikes. He is an avid sports and music fan, and dreams of the day he can enjoy a Spikes at a baseball stadium. Dan is a Certified Public Accountant (CPA) with extensive professional experience working for large multi-national corporations and accounting firms.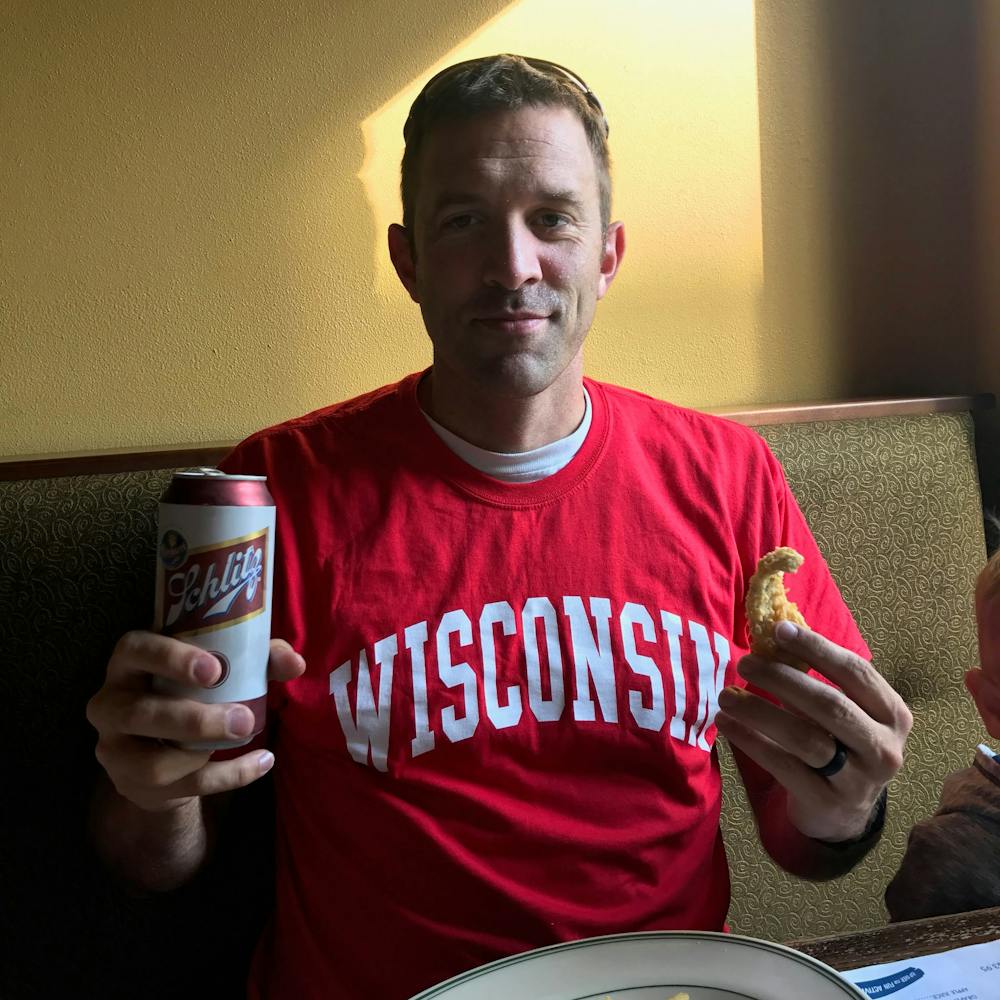 Brian Gettelfinger
Co-Founder
Brian jumped at the chance to launch this product with Dan as his athletic hobbies leave him with a thirst for ice-cold beer. Brian is a PhD engineer with an MBA, and his experience in product development in one of the largest CPG companies in the world has helped bring this product from kitchen ice-cube trays to store shelves.
Why Invest?
We've learned a lot about this market in a very short time. We now know that people love this product and will buy it. We are seeking investment because we want to help Spikes grow fast. This is especially true in our marketing efforts, where we are battling against a well-established specialty spirits industry.  We must grab as much market share as we can while we still have the advantage of being the first movers in this space.
Broadly speaking, we plan to use our Wunderfund success to quickly scale our operations in two vital areas - marketing and distribution. With your investment we can execute our go to market strategy and bring this product to the masses.
Perks
We'd like to offer our early investors a little token of our appreciation for believing in us and investing in our company. Below are some perks you'll take home for being an early investor.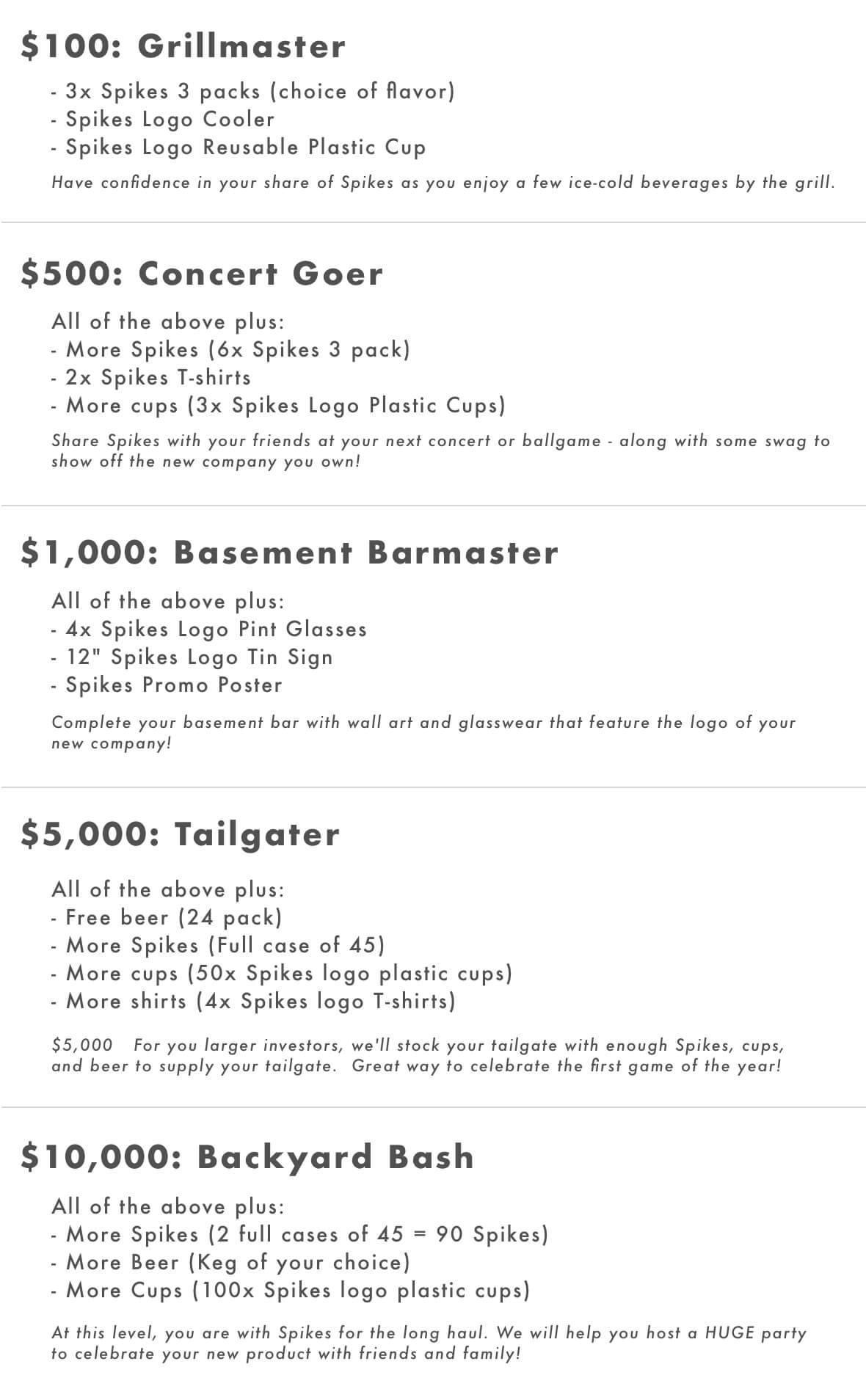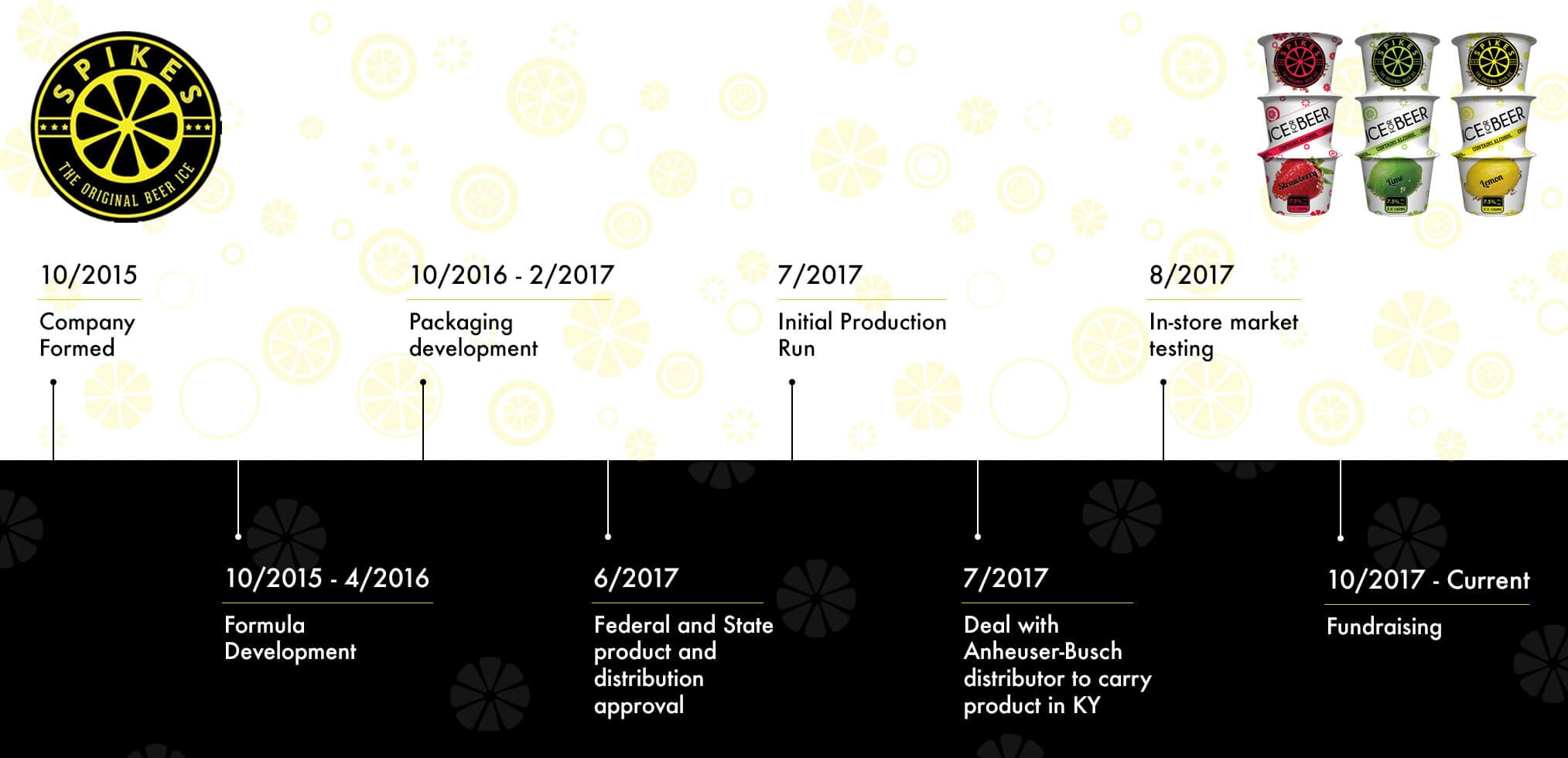 Go-to-Market Plan
With this being a new product in a new category, our marketing will revolve around trial and awareness.
Trial
Getting people to try the product is the best way for us to acquire customers. When people try Spikes, they instantly understand the product, and why they would want to purchase it.  Some of the ways we plan to drive trial include:
In-store tastings
We've done several already and found that 30-40% of people who try the product, buy it. We plan to greatly expand the number of these tastings in 2018.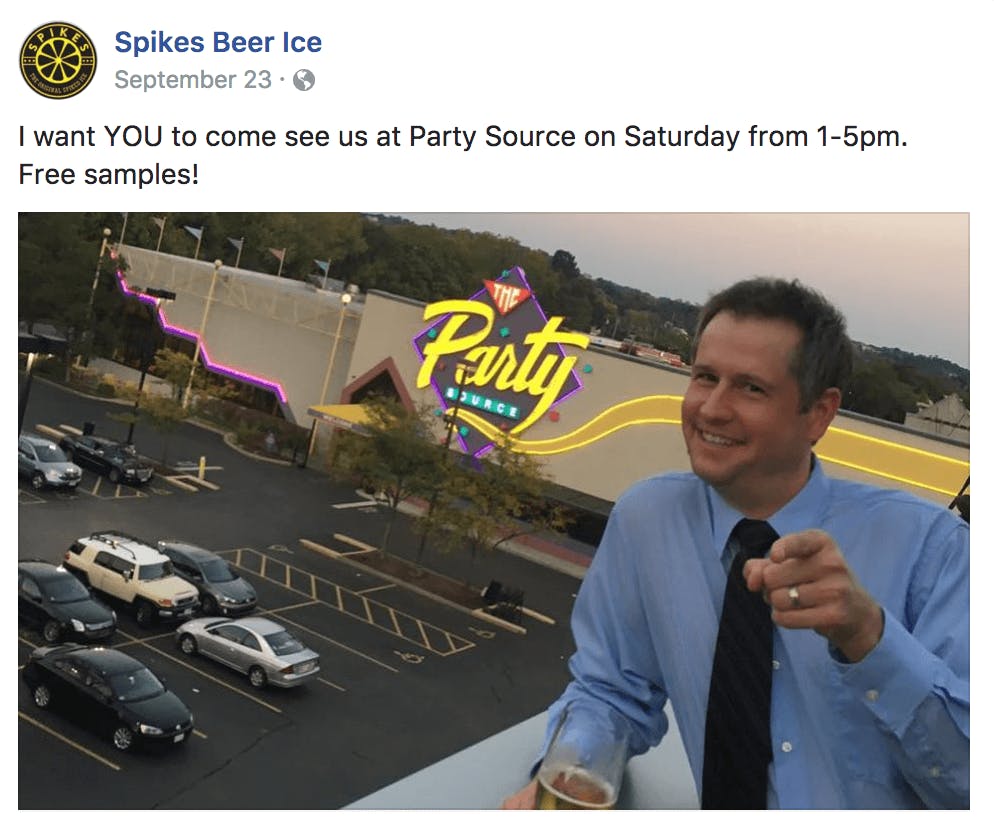 Outdoor events
We did a sampling at an outdoor festival in our test market and Spikes was a huge hit. Word spread quickly amongst the crowds and people began lining up to purchase. We plan to do as many of these as possible.
Bar promotions
We also did a sample program at a bar where customers and bar employees gave us great feedback. These activities are great trial opportunities, and get our foot in the door with these establishments.
Awareness
We just invented a new category in the alcohol industry! So, general awareness of the product and how it is used is our big challenge. Here are our plans to create awareness and reach customers.
Point of Sale Marketing
We've got cardboard floor and counter displays that clearly communicate what to do with Spikes. We put simple recipes and pictures right on the POS materials to make it easy for consumers to quickly understand how Spikes works.
Social media
We have 17K followers in the Spikes Facebook group! We plan to start publishing simple recipes that explain how to use the product. We'll also turn on digital ads to push the message out to more people.
Influencer marketing
Many of our Facebook group followers are social media influencers with many followers themselves. We want to engage influencers to share Spikes on social media (mostly Facebook and Instagram) by offering them fairly minimal payments and/or merchandise.
Distribution
No matter how much people love Spikes, we are currently capacity limited to get it in more stores. Luckily for us, the alcohol industry has a variety of distributors around the country to help us get to market. Of course, these distributors are businesses too, and the more inventory we can build for them, the more likely they are to partner with us. We will use this capital injection to build and deliver high enough initial inventory to our new distribution partners.
Why use the Wunderfund platform?
There are several equity crowdfunding sites out there, but only Wunderfund is based in the Midwest and is working to help the Cincinnati startup community.  Wunderfund is a startup just like us, and we feel strongly about supporting this platform so that we may pave the way for future startups in the area.  The existing crowdfunding platforms are almost exclusively based on the coasts/Silicon Valley.  Wunderfund is working to help early stage companies raise capital right here in the Midwest and our home base of Cincinnati.  We think this mission is vital to the success of the local startup community and is great for the area as a whole.  Our campaign succeeding will be a big step forward in making this possible.  By making an investment you are not only supporting our startup, but the Wunderfund startup and the Cincinnati startup community as a whole.  Thank you in advance for your support!
Product Overview

FAQs
What kind of recipes have you tried?

Here is a quick list of some basic combinations to try. There are literally thousands of combinations but here are some of our favorites:

Any flavor + light beer (the standard!)
Lime + Mexican beer
Lime + tequila
Lime + vodka
Lime + whiskey + coke
Lime + coconut rum + coke
Lemon + vodka
Lemon + vodka + orange juice (a "Sunny D")
Lemon + vodka + bloody mary mix
Lemon + long island mix
Lemon + twisted iced tea
Lemon + lime beer (a "lemon-lime")
Strawberry + champagne
Strawberry + white wine
Strawberry + Gose style beer
Strawberry + Blonde style beer (a "Strawberry Blonde")
Can you put these in craft beer?

Yes and no. Similar to making a cocktail, you have to find the right combination. Our lime flavor works great in Mexican style beers, and our Strawberry flavor goes great in a Blonde Ale or Gose style beer. But are you going to put a lemon one in an IPA? Probably not. We've got a grapefruit flavor on the way that actually does work in an IPA though!
What other flavors have you considered?

We are already doing preliminary tests for grapefruit and orange (wheat beer!) and have received a flood of other suggestions including pineapple, pomegranate, watermelon, peach, blueberry, raspberry, coffee, fire/cinnamon, Irish cream, plain/unflavored, berry/cranberry, pumpkins spice, and Christmas spice. And that's just off the top of our heads! Of course we cannot implement all of those flavors, but it does help to show the creativity of our community! With investment we will be able to better evaluate the market for some of these options and see if they are worth a try.
What are your expansion plans?

We plan to leverage established distributors to get the product out into the market quickly and penetrate as many stores as possible. We are starting in Cincinnati and expanding throughout Ohio and Kentucky. From there we would move South to the warmer states. We have had initial discussions with several large distributors and have signed on already with an Anheuser-Busch distributor for part of Kentucky. The additional capital from Wunderfund will help our relationships with these distributors as we will be able to better support the product from a marketing perspective. Alcohol distributors are interconnected and building good relationships with even just our local distributors will lead to a domino effect as the product gets recommended to additional affiliates.
What is the retail price?

These retail at 3 for $5 at convenience stores. Some stores will sell singles for $2 each. At bars/restaurants they retail for $2 each.