What is CrownMob?
We're a digital marketplace for Black Consumers to Discover, Buy and Sell Black Hair & Skin Care products.
CrownMob's Story
It was just over a year ago when founder Ricardo Grant discovered a difficult truth that Black consumers face everyday: It's really hard to find good Black Hair & Skin Care products. It's so difficult that his wife and friends were willing to spend a staggering $2,000 per year. This blew his mind, and soon Rico found that they're not alone. The Black Hair & Skin Care market is so under-served that consumers spend hours - or even days - trying to find products that meet their needs. It's a frustrating experience, which is why when they do find something they like, they're willing to spend so much money on them.
He started to wonder: How many quality retailers are out there offering great products at affordable prices for Black consumers? Rico discovered thousands of websites and specialty retailers out there, but soon realized it's difficult for them to get noticed amidst all the noise. That's when he had an "Aha moment!"
Rico envisioned a single marketplace that features the very best rated products for Black consumers looking for the perfect Hair and Skin Care products. So he got to work and began building this marketplace. This is CrownMob!
About the Company
In March, 2017 CrownMob Inc. was an idea on a napkin. By September, 2017 CrownMob Inc. was selected as one of the 8 companies invited to the Uptech Accelerator program, a top 30 accelerator in the United States.  Getting into the invitation to Uptech which invested $50,000 in the company was not a easy task. Founder, Ricardo was relentless in his efforts. He located the Program Director's calendar on the World Wide Web, booked time without permission so he could pitch his new company. That's the mentality of the CrownMob team: relentless, aggressive and passionate. Founders Ricardo Grant and Jordan Crone participated in the 20 week program where they built the the CrownMob platform and began their journey of customer acquisition.
Product Development:
CrownMob officially launched in January 2018 and now offers over 3,000 products, servicing thousands of users and is processing orders daily. CrownMob's already acquired retailers from 12 different states that offer a variety of products such as weaves and extensions, beard care products, skin creams, soaps, body butters, and natural hair care products just to name a few. Now its time to scale!
eCommerce:
eCommerce is at the center of our business and our retailers e commerce needs are a top priority to us. We provide 100% of our retailers with a back end dashboard that allows full visibility and control over their inventory, branding, pricing and fulfillment information.
The platform thrives on simplicity and intuitiveness - all retailers have to just print out a shipping label, slap in on a package and send it out the door. This has allowed us to convert a growing number of our retailers to use CrownMob as their main source of web presence. A big win for us!
Revenue Model:
CrownMob earns 11% commission per product sold. We add value to our retailers by marketing their products to thousands of new consumers daily in the scope of Black Hair & Skin Care. We do this through strategic marketing channels, content generation, digital advertising with various social media platforms ,and outbound email marketing. Our marketing efforts have been proven to be effective and the word of mouth traction has been strong. This industry has been fueled by word of mouth since the beginning and we've leveraged this to grow our retail customer base and drive user acquisition.
Market Validation:
We've now validated CrownMob in the $12 Billion market. Our retailer base represents 12 states throughout the United States as well as London. CrownMob is growing in sales, site traffic, new and returning users, and product offerings month over month since launch, and we are just getting started.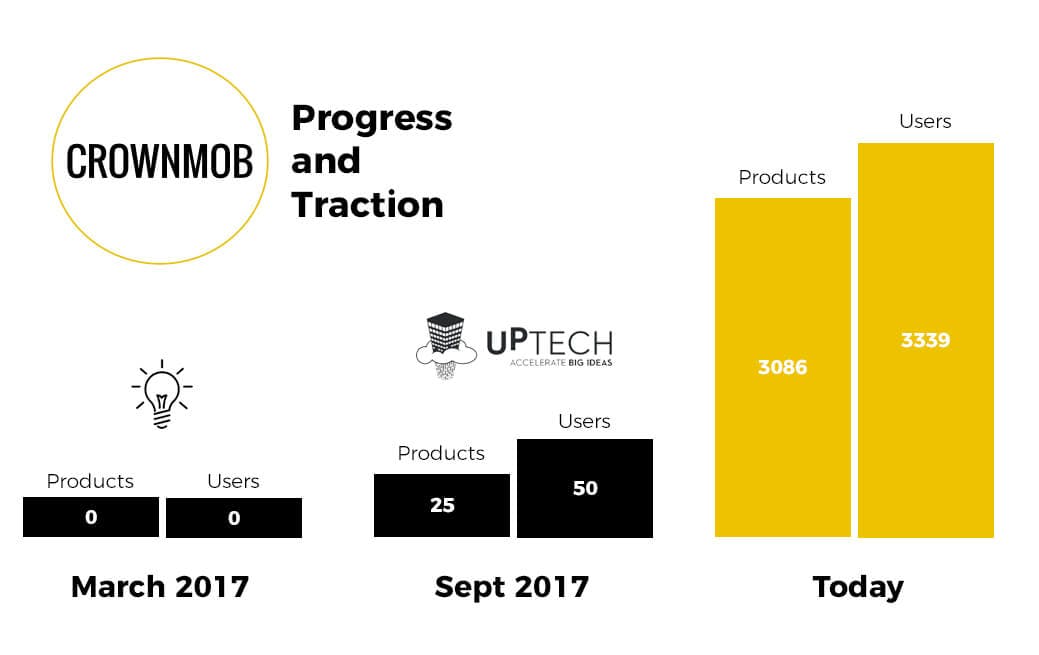 The Team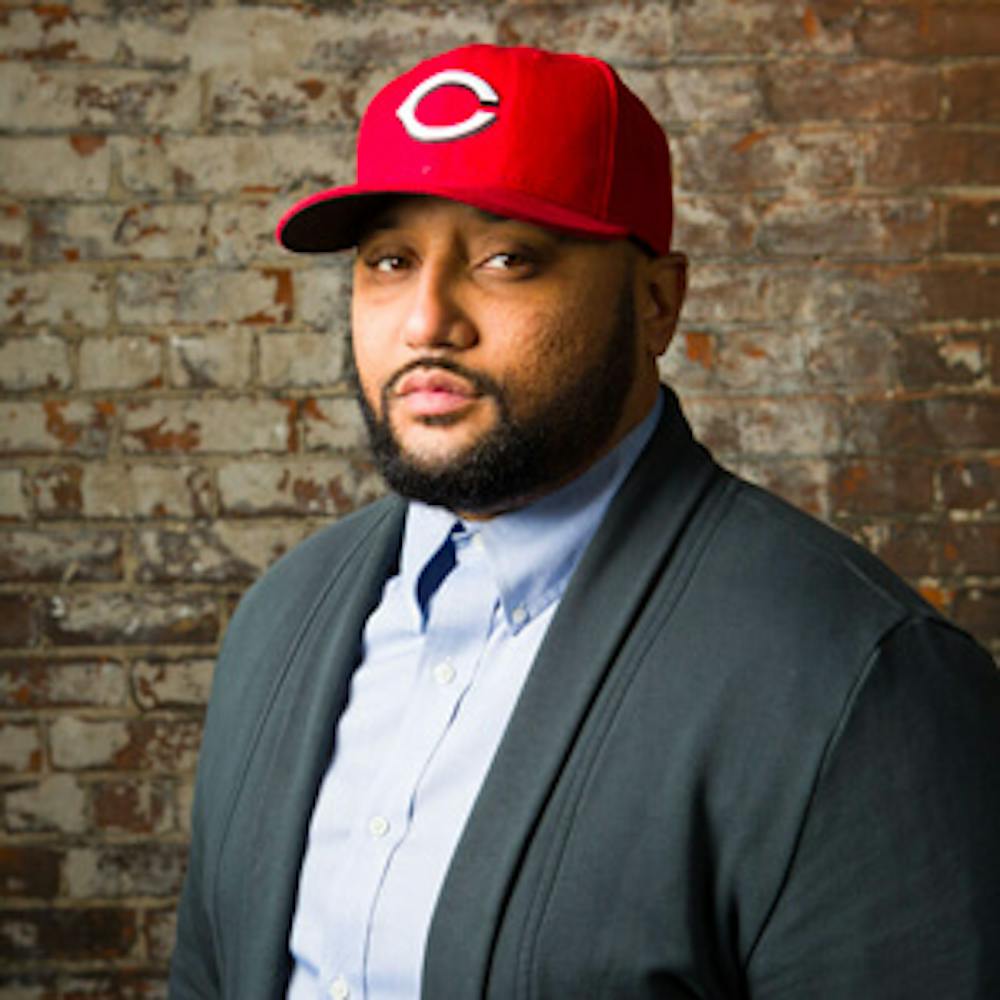 Ricardo Grant
CEO, Co-Founder
Ricardo represents the hustle of the team. On March 2nd, 2017 Ricardo produced the idea of an online marketplace catered exclusively to Black Hair & Skin Care and just three days later he started the journey and never looked back. Ricardo has a background in sales and marketing as a longtime entrepreneur (small projects), and combined with his corporate background, he offers the level of leadership and tenacity to disrupt this industry. Growing up in the African American community, the city kid from Cincinnati, Ohio has been around the niche industry his entire life and understands the problem and more importantly the need for technology to move the culture forward.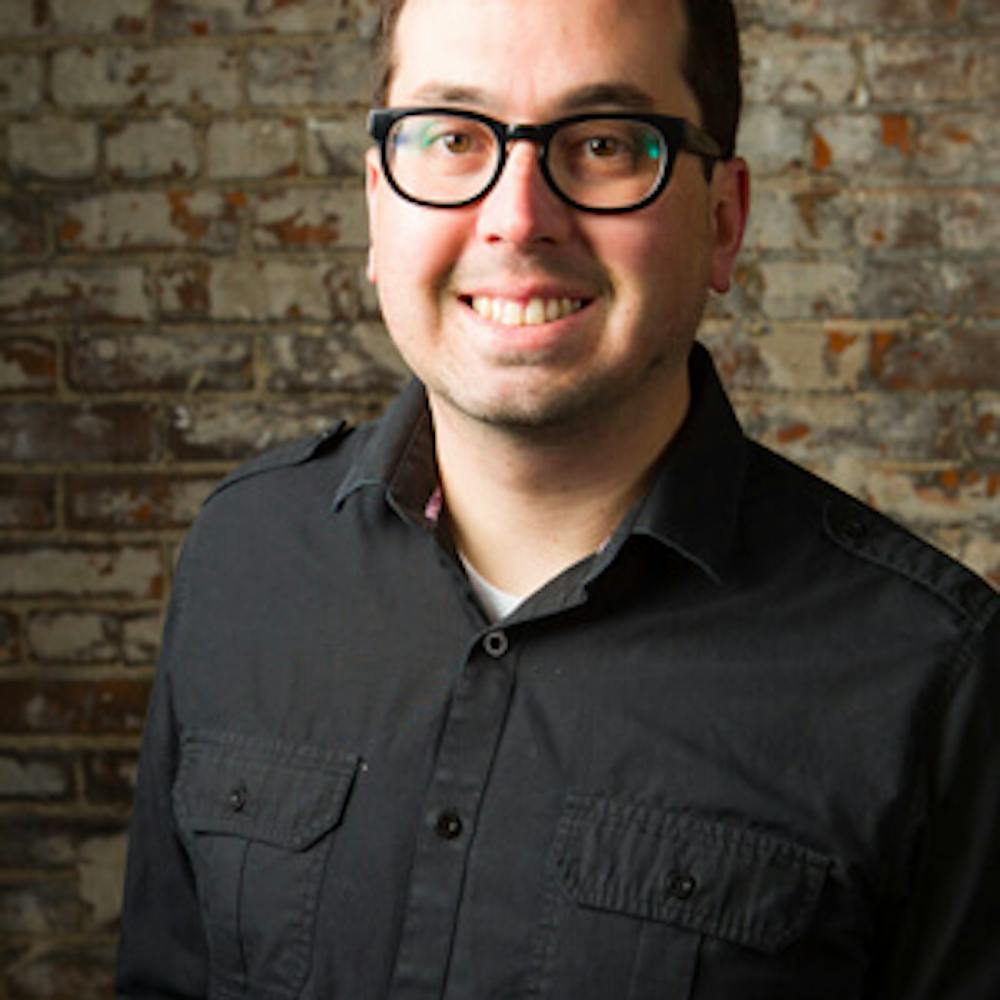 Jordan Crone
CTO, Co-Founder
Jordan represents the tech of the team. A long time digital enthusiast, Jordan has worked with a number of companies and projects ranging from large scale enterprise applications, to native mobile applications, to fun and quirky projects like a meme-inspired sticker pack. Jordan joined the CrownMob team after attending Bronner Bros hair show in Atlanta. The show consisted of 300+ vendors across the black skin and hair care space and only two of the vendors were tech companies. 2 of 300!!!
Why invest?
It's simple, we've figured it out! We know the value we offer to our customers, we know the problem we are solving, we have the technology to solve it, and now we need to let the world know CrownMob exists. Our goal is to grow fast and your investment helps us do the marketing to do so. This company is ready to scale, that's why you should invest!
Perks:
$250 Investment: Crownmob T
$500 Investment: Crownmob T + $25 gift card
$1,000 Investment: Crownmob T + $50 gift card
$10,000+ Investment: Crownmob T + $250 gift card + $50 gift certificate to your favorite salon.
Use of Funds: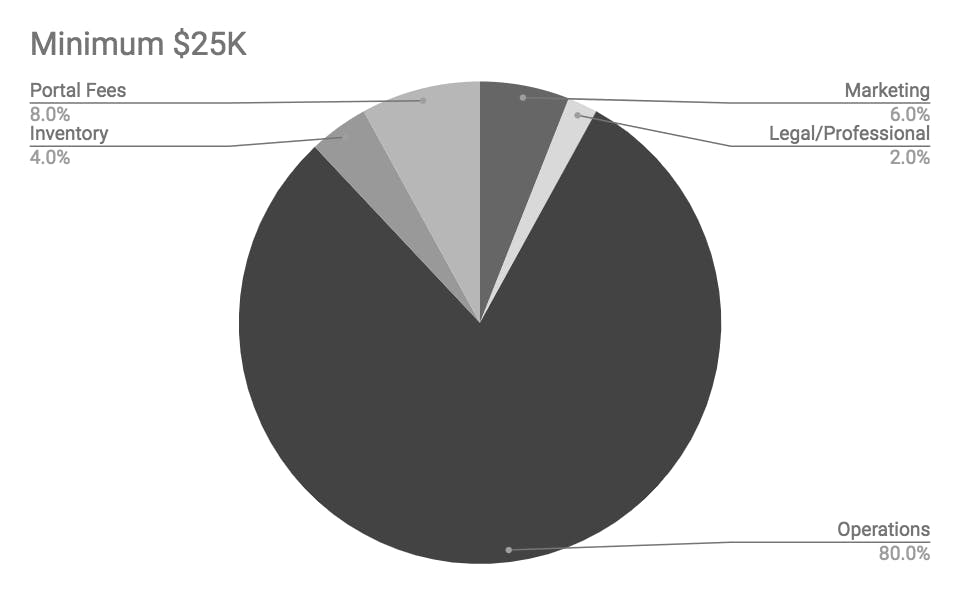 FAQs
Is Black Hair & Skin Care a niche market?

Yes, you might say that. However, the under-served Black Hair & Skin care market is a $12B niche market. Black consumers have the experience and appreciation knowing how under-served their community truly is. Our CEO Rico Grant lives this everyday.
Why is the market of retailer so fragmented?

This industry has lived in the stone age since the beginning. There is a lack of capital for new retailers, missed marketing opportunities, and lack of technology. However the emergence of new retailers who are creating innovative products, and they need representation in the market. CrownMob gives them the opportunity to get the attention they deserve using our platform technology.
Who is considered our competition?

Our competitors are the mom and pop hair stores that sit in the center of every black community, strip mall, and salon boutique throughout the Unites States. These shops have very limited resources due to lack of space. Because they're so small, there are trust issues when it comes to curating the product offerings. We built CrownMob with the customer in mind and to consolidate this industry to eliminate the problems of finding the right hair & skin care products for black consumers.
What is the company's next milestone?

The great thing about our platform is that its been tested and (even more important) validated with user growth. Now, it's time to let the world know that we have the solution to eliminate the rocket science behind Black Hair & Skin Care. Our next milestone is to achieve $10,000 monthly recurring revenues. We feel confident we have the right plan to do so!
Why Wunderfund?
Wunderfund is a FINRA/SEC regulated funding portal. Wunderfund supports all types of early stage companies ranging from lifestyle businesses to tech companies. Wunderfund believes in small business, strong communities, and supporting minority businesses. Importantly, they want to see the Midwest become an economic engine and become the next Silicon Valley. By making an investment you are not only supporting our startup, but you're supporting this vision. Thank you in advance for your support!