The Problem
The world needs more businesses that are women & minority owned, LGBTQ owned, veteran owned, and B-corps. They're values driven & mission minded. They strive to bring equity, inclusion, and sustainability to the world while they do business. But the problem is it's very hard for these companies to find and do business with each other...until now. That's why we built CERTFIABLY.
What are Values-Driven Businesses?
Values-drien businesses (aka Impact Businesses) are run by women, minorities, veterans, LGBTQ, and B-Corps and they are historically underrepresented among the largest global companies.
Certified Business is Good Business
We're not just talking about the impact of small businesses either. Notable B-Corps are soaring to new heights and making environmental & social sustainability part of their daily core practices, while delivering strong revenues.
What's the role of Certifying Agencies?
The US Government and big companies want to work with these diverse companies. But in order to verify the legitimacy of these diverse companies, they look to third-party certifying agencies to credential B-corps, women, minority, veteran, and LGBTQ-owned businesses.
Our Mission: To Power the Impact Economy
CERTIFIABLY makes it easier for like-minded certified businesses to come together and make a greater impact on the world. That's our Mission… that's our passion. And there's real power when we link world-changing companies to one another. They improve lives, increase economic impact, and ultimately make our world a better place.
So, Why Invest in CERTIFIABLY?
1. Consumers Demand More from their Companies & Brands
They are willing to throw their loyalty behind brands who have a greater mission and purpose towards social & environmental issues. A majority of consumers feel that it's a company's obligation to improve on these issues (Cone Communications).
2. Supplier Diversity & Sustainability Spending is on the Rise
As many as 82% of Fortune 500 companies now publish annual Sustainability Reports (GAI). Corporate sustainability & responsibility is here to stay.
3. CERTIFIABLY is the Marketplace for Certified Suppliers & Corporate Buyers
In order for mission-minded companies to make a greater impact, they have to find one another more efficiently. CERTIFIABLY aims to be the first & last SaaS platform to find a certified company.
How It Works
CERTIFIABLY makes the connections happen between trusted certified companies. It doesn't matter whether you're a B2B or B2C company, so long as you're certified.
Go-To-Market Plan & Business Model
CERTIFIABLY is free to join for any certified company. All companies start with a Basic Membership, and can purchase Premium, or Corporate Level subscriptions with greater access to features. We also charge transaction fees on purchases through our platform and advertising fees. Our activation strategy for corporate level subscriptions is driven through our corporate innovation workshops we host through our channel partner Spry Labs. 
We've already subscribed over 100 member companies across the globe, and our plan is to grow to 1,000 members with 200 premium subscriptions within the first year.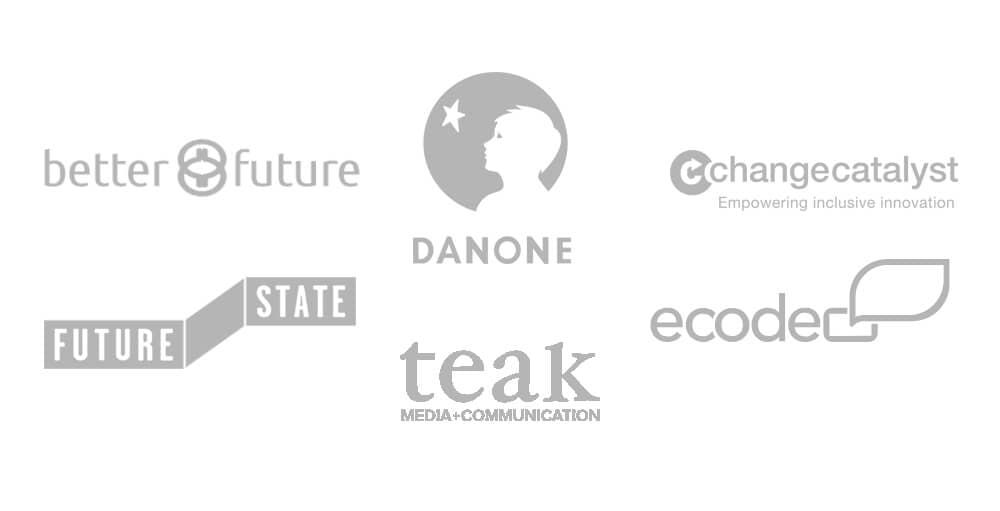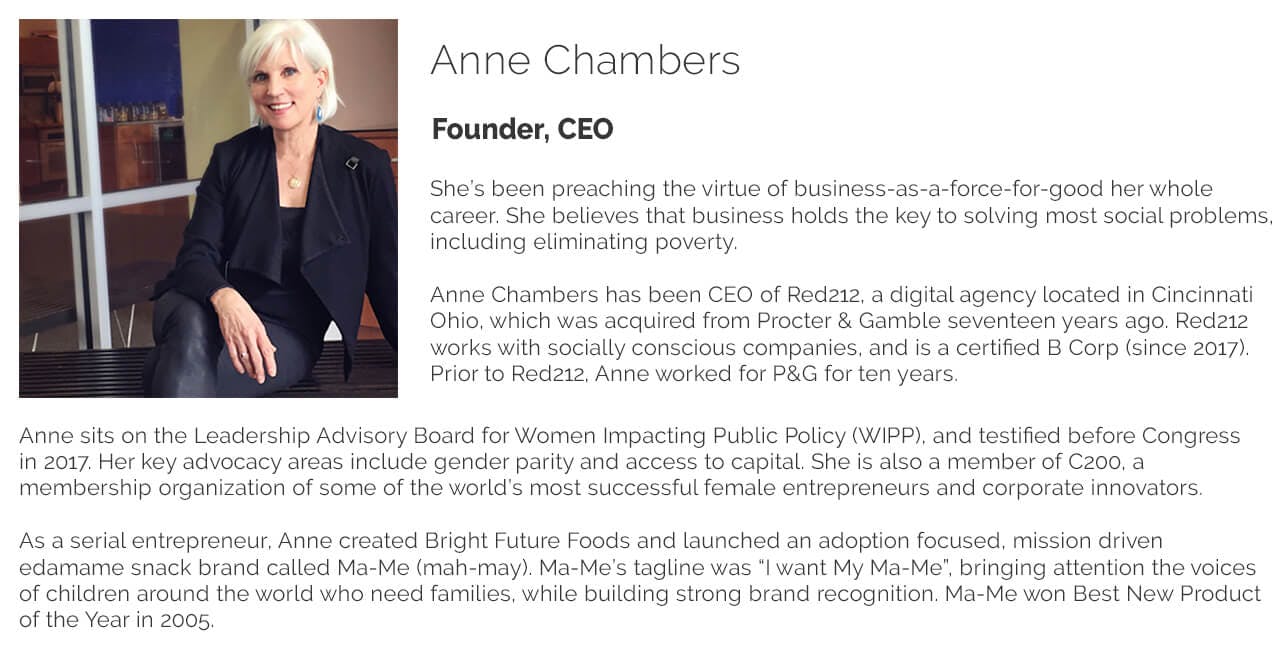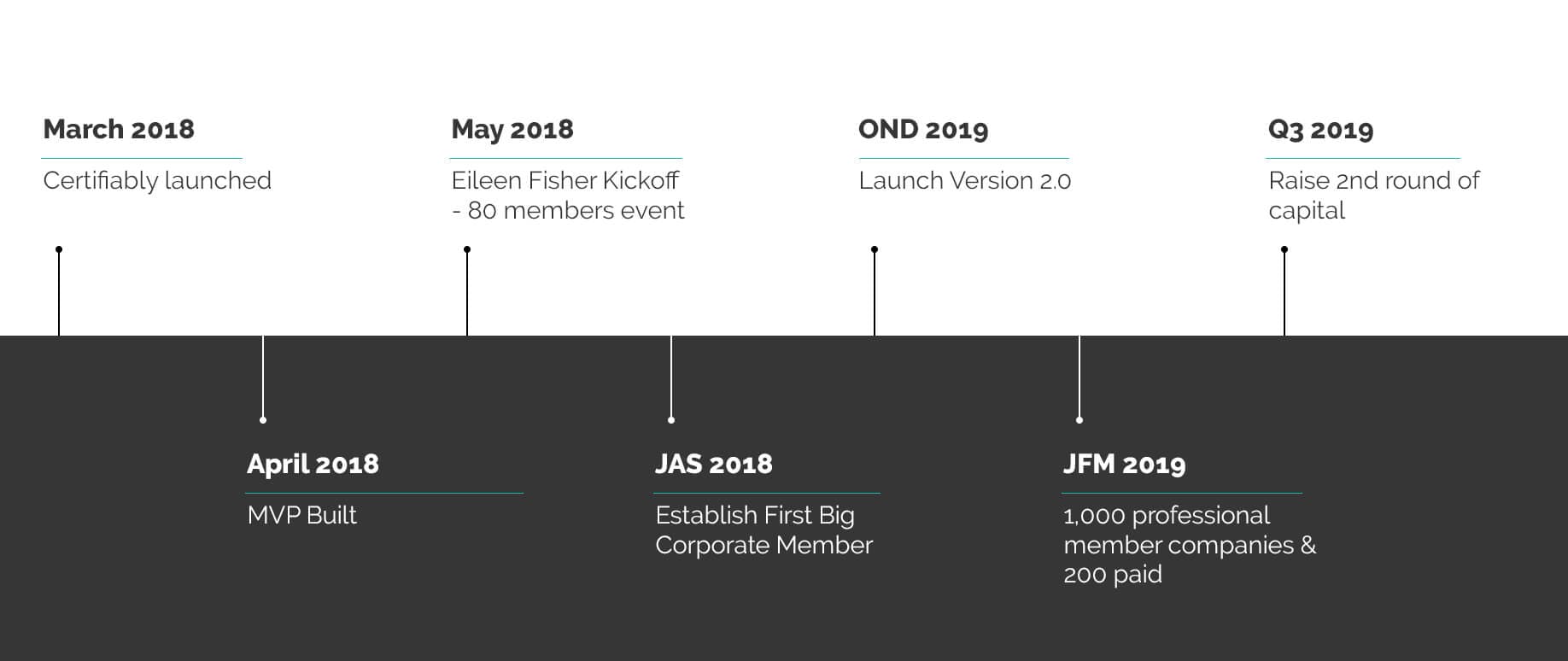 FAQs
How did you come up with Certifiably?

I saw a need and decided to create a solution. As a certified woman owned business, I have been frustrated for a while that there is not a more concerted effort on behalf of women owned businesses to work together. People express the desire to do so, but there was never an easy way to actually make it happen. Then when we became B Corp certified I witnessed exactly the same frustration. So we created Certifiably.
Why are Certified businesses necessary?

Certifications are an important tool for corporate America to ensure diversity and inclusion in the supply chain. They are also an important expression of who you are as a company. B Corp certification, for example, is an expression to the world that you are committed to making the world a better place through your business. Being certified as woman owned, or veteran owned etc. also lets the world know something important about your company. And the certification provides a third party guarantee that you are who you say you are. Certifications can provide a distinct competitive advantage.
What will it take for certified businesses to be fully represented amongst Fortune 500 Companies?

Working with certified businesses needs to become a part of the everyday practice at Fortune 500 companies. All procurement teams should be looking at certified companies for every opportunity, and not just to meet a required goal. But the goals are an important step to this becoming the norm.
What's the technology road map for Certifiably?

The Certifiably platform will become much more robust. Currently it is a working Minimum Viable Product. We will build the technology to allow for more community connections, and much more opportunity for companies to showcase who they are and what they do. There will also be a ratings and referrals, and eventually trainings.
Can any company join Certifiably?

Yes, Certifiably is a member organization that is open to any company. However, only Certified companies will be alerted when new opportunities are posted. The reason non-certified companies can join is that they want to work with certified companies, and as a member of Certifiably, they can post their needs and indicate what kinds of certified companies they are seeking for any particular need they have.
Letter to Investors:
Dear Investors,
I've been a marketer for my whole career working with the world's biggest brands. I have always encouraged brands to be vocal about their values, because I believe people want to buy from companies that share their values. We feel an affinity to others when we share something in common.
I was working on a project with Wal-Mart recently, who cited that "90% of women, and 90% of Millennials would prefer to buy from women-owned companies." Unfortunately, that's not happening to the extent it should. Why? The answer is simple. There is no easy way to find women owned companies, and nor is it easy to find companies owned by LGBTQ, minorities, veterans, or B-Corps.
That's why I launched Certifiably. My purpose is to empower values-driven businesses to have greater success and to increase the impact in their unique world-changing ways.
I believe that diverse entrepreneurs with a strong idea can partner with powerful brands to make a difference and fulfill a common mission.
That's why I started Certifiably, and that's why I welcome you to join me!
Thanks so much!
- Anne Chambers, CEO