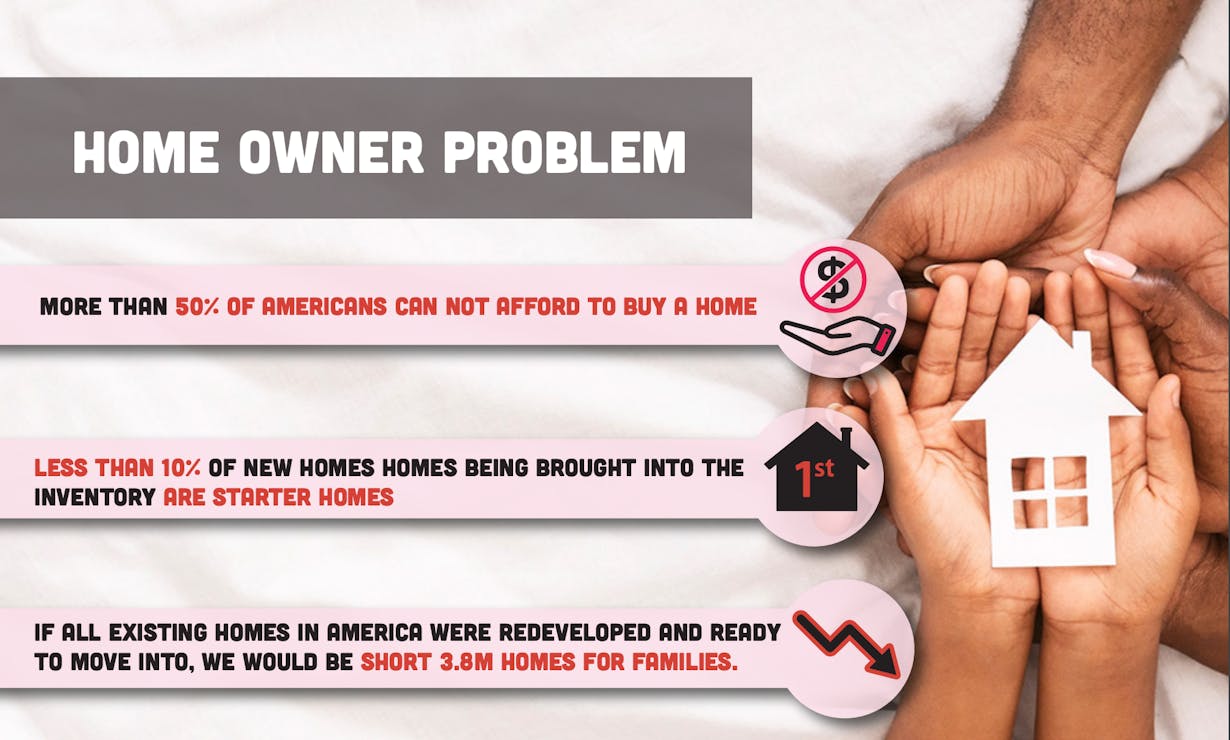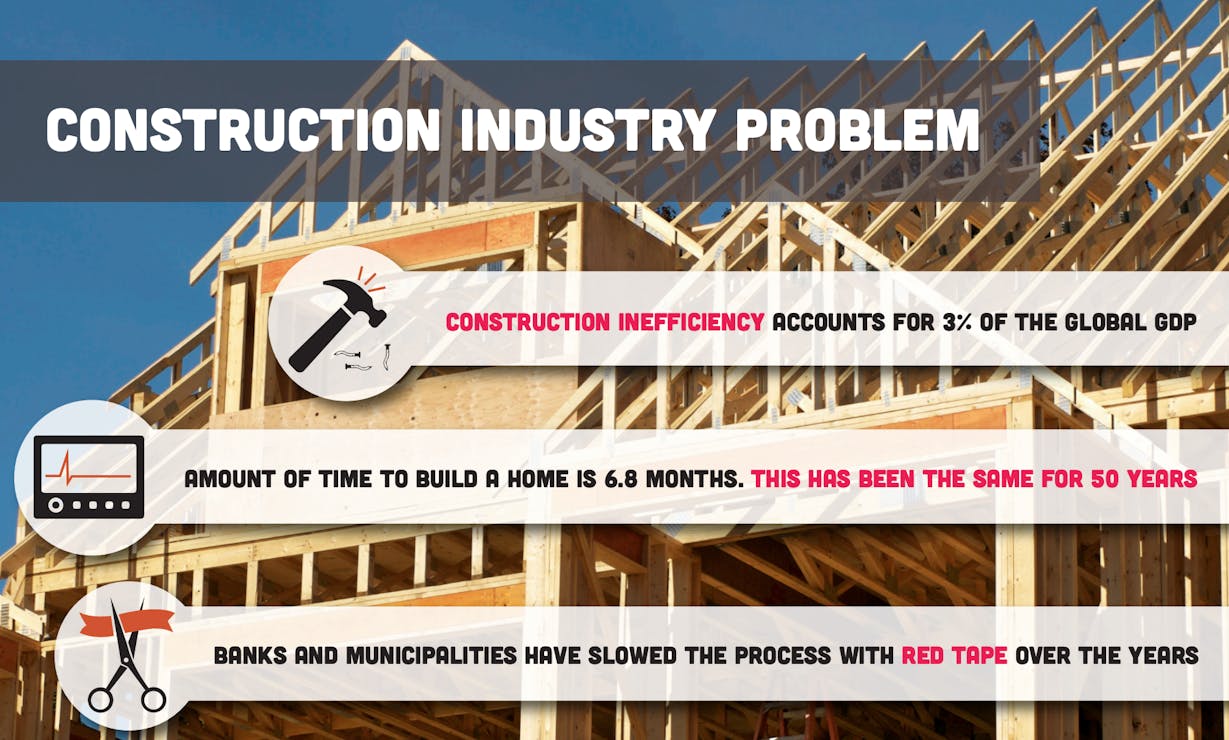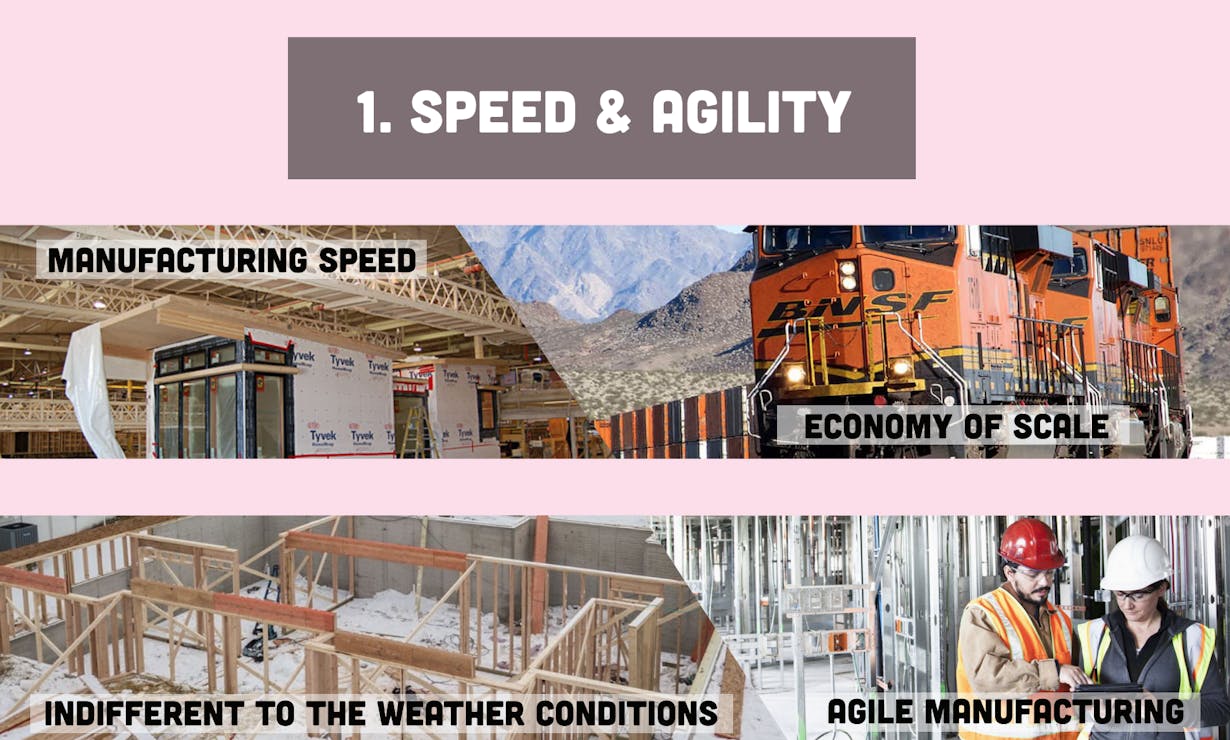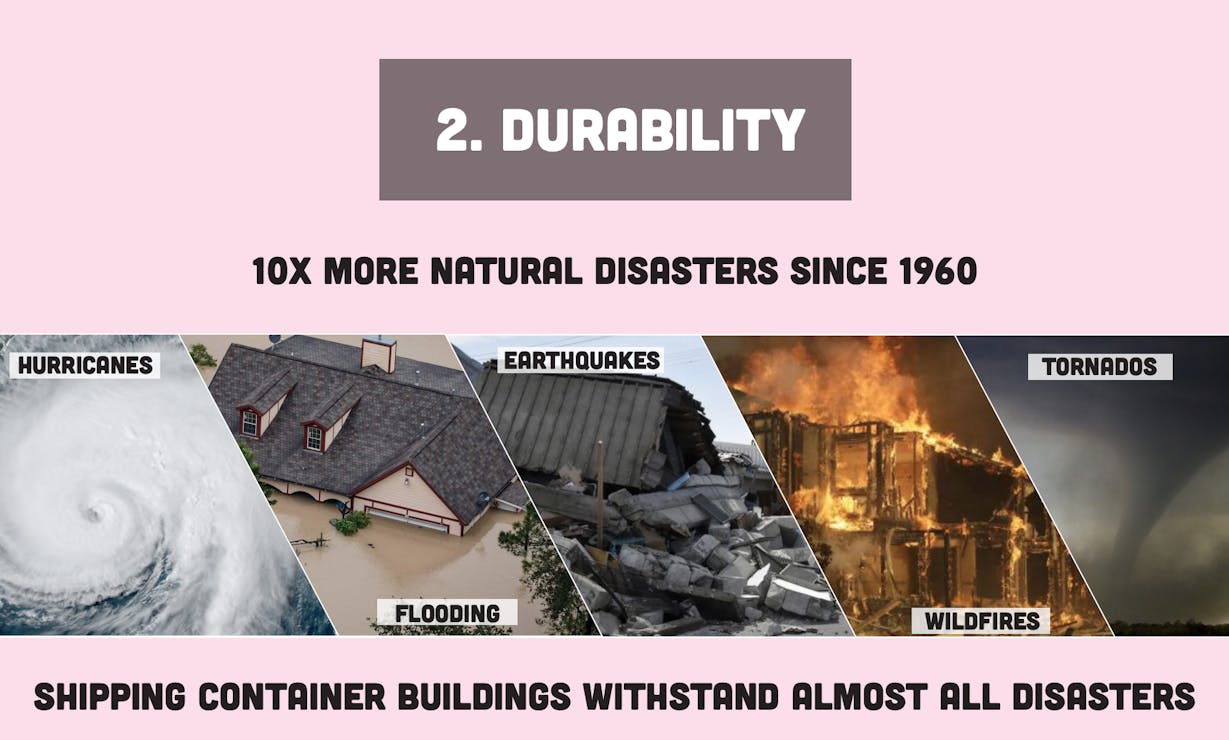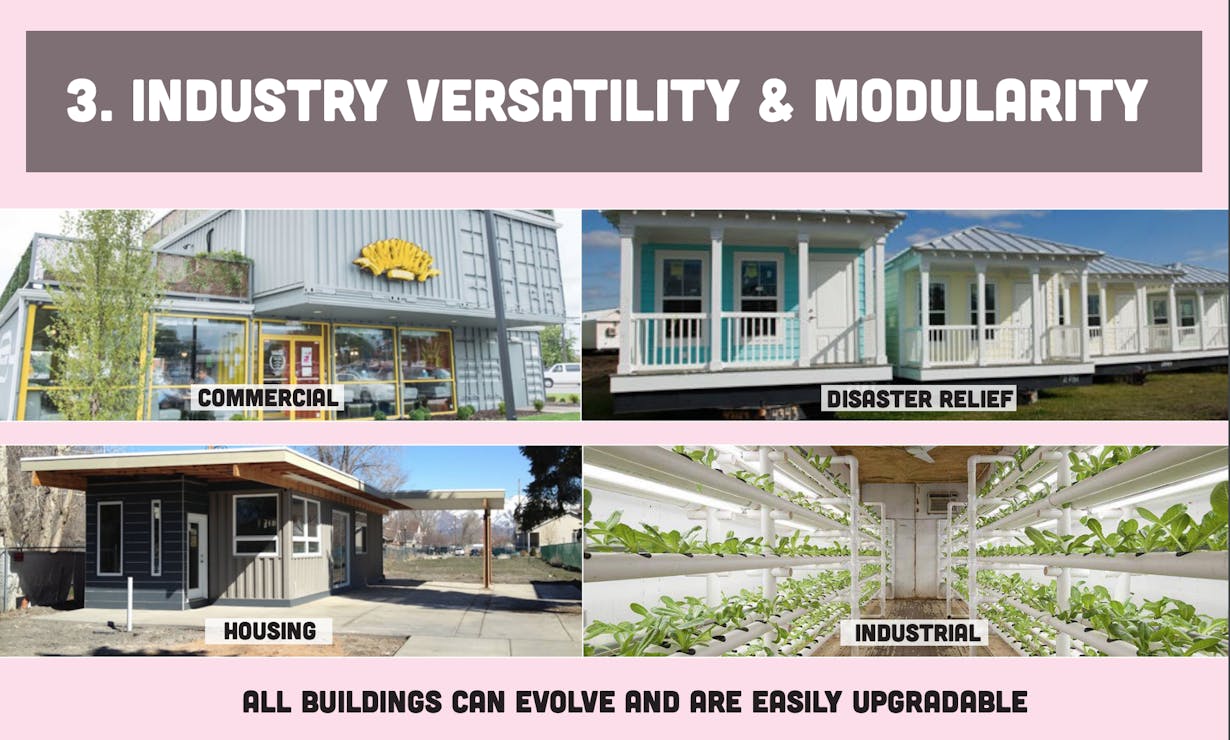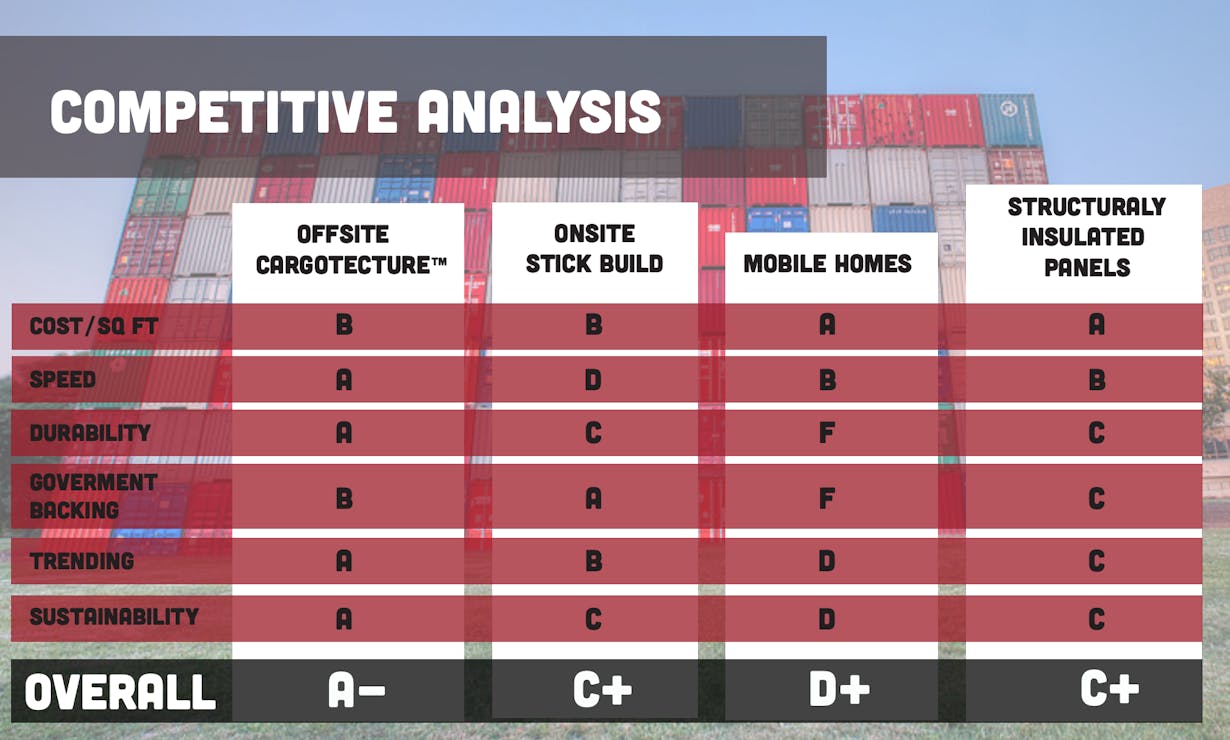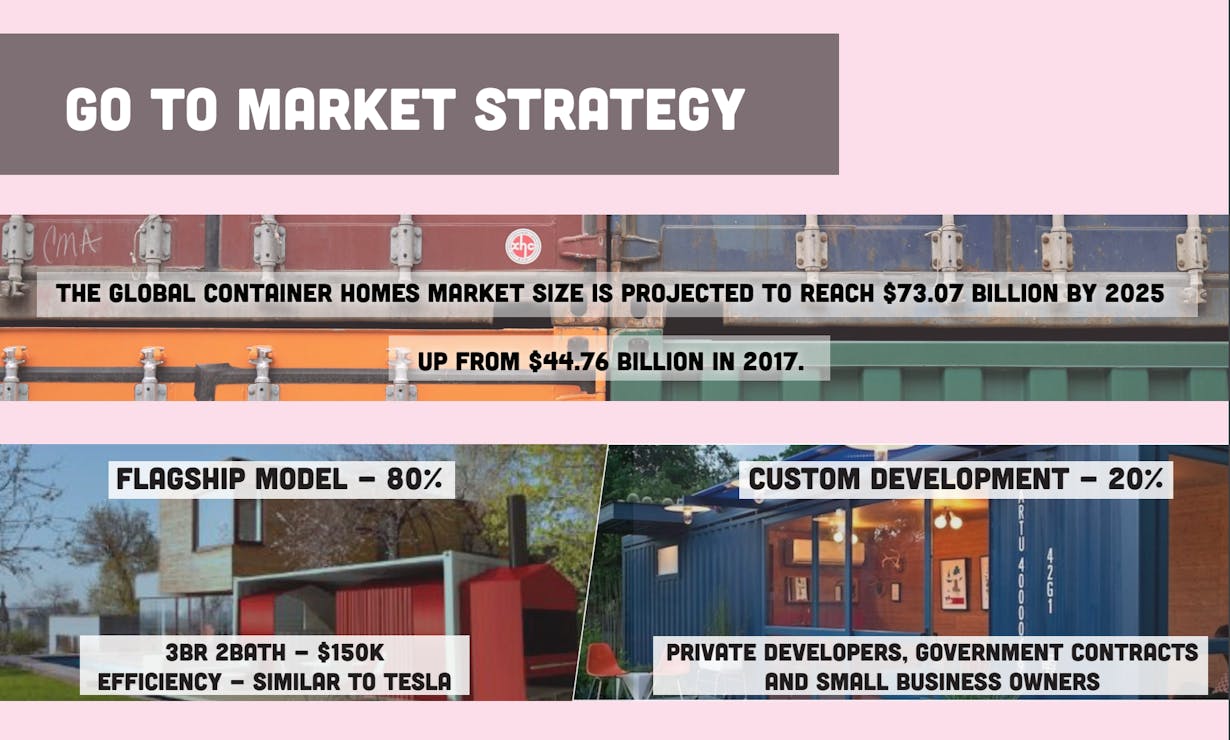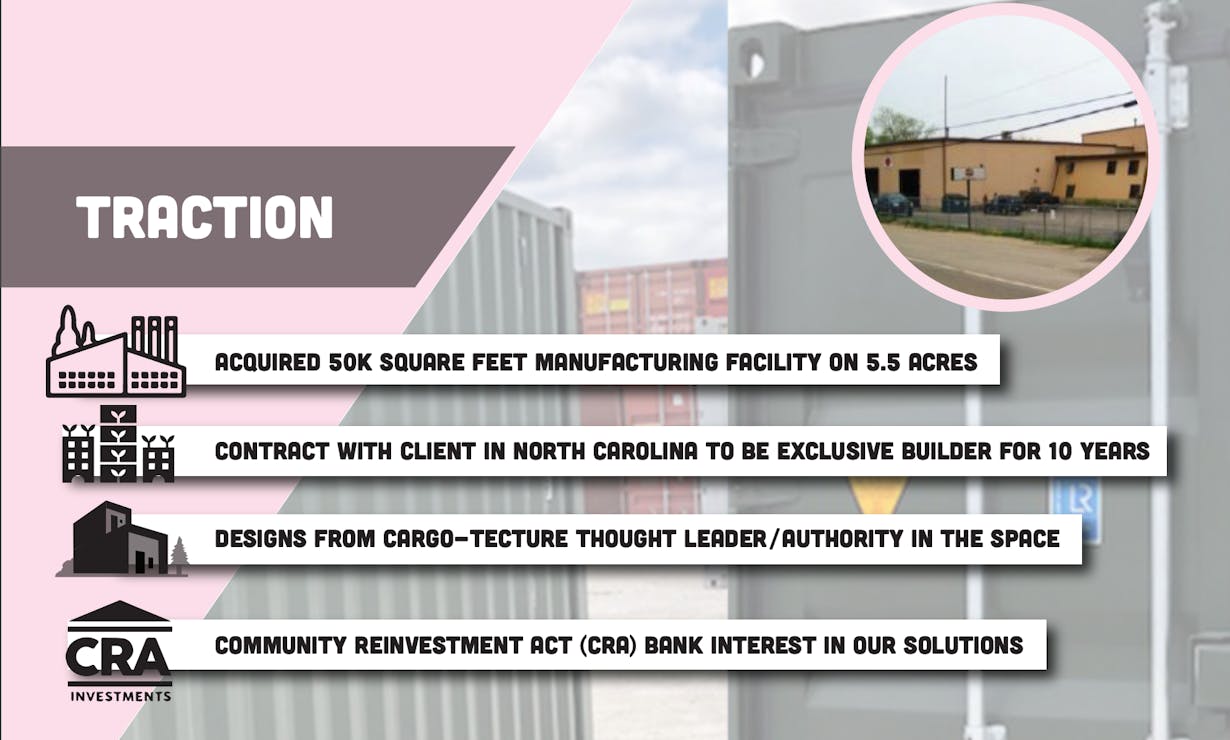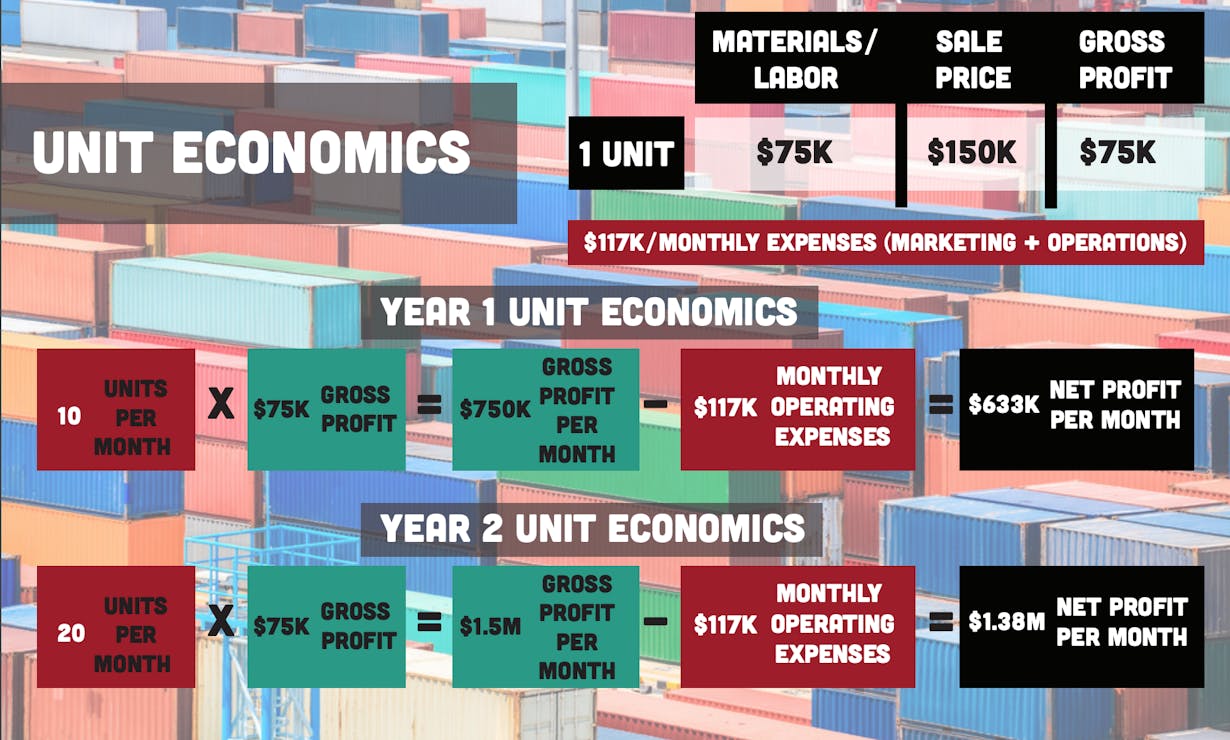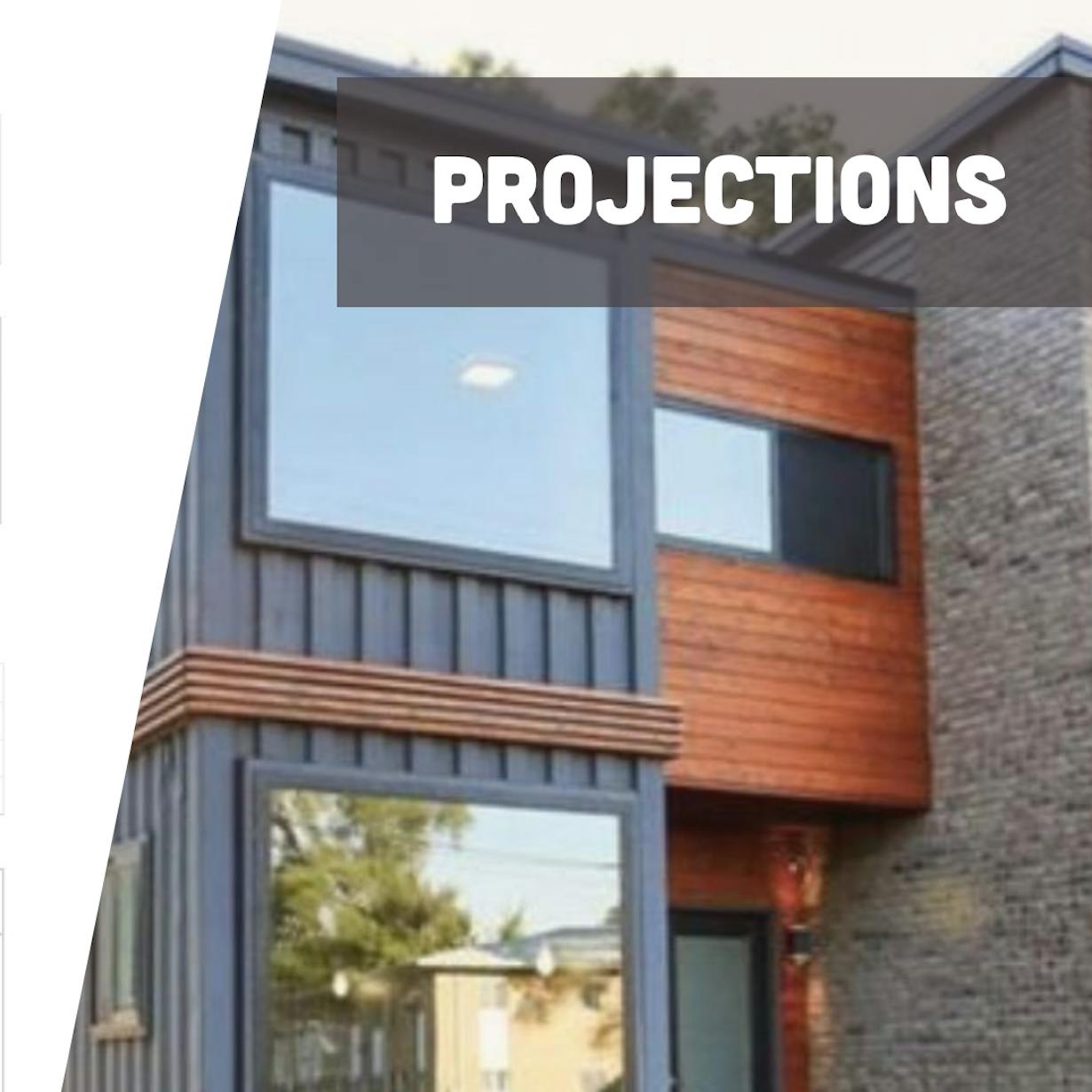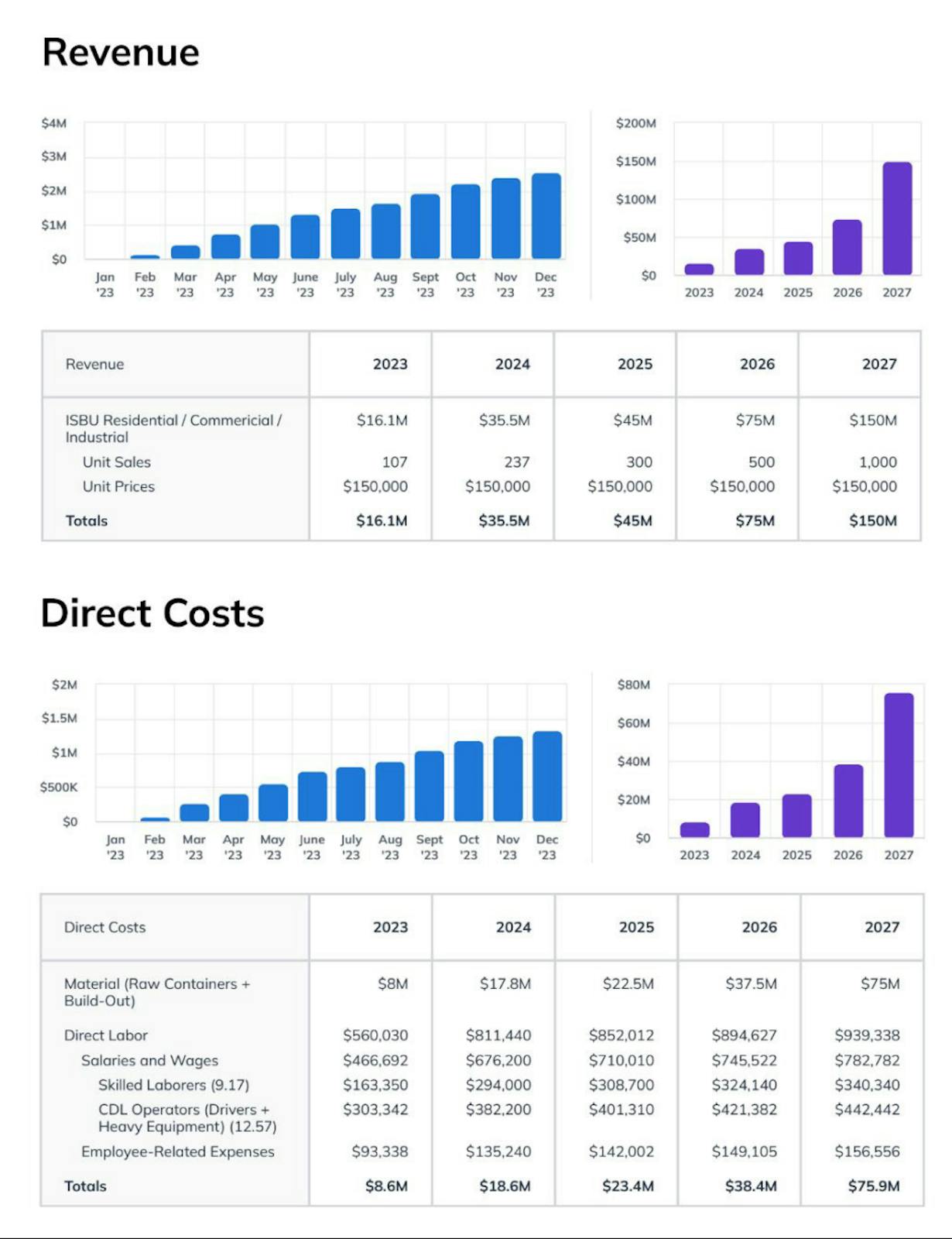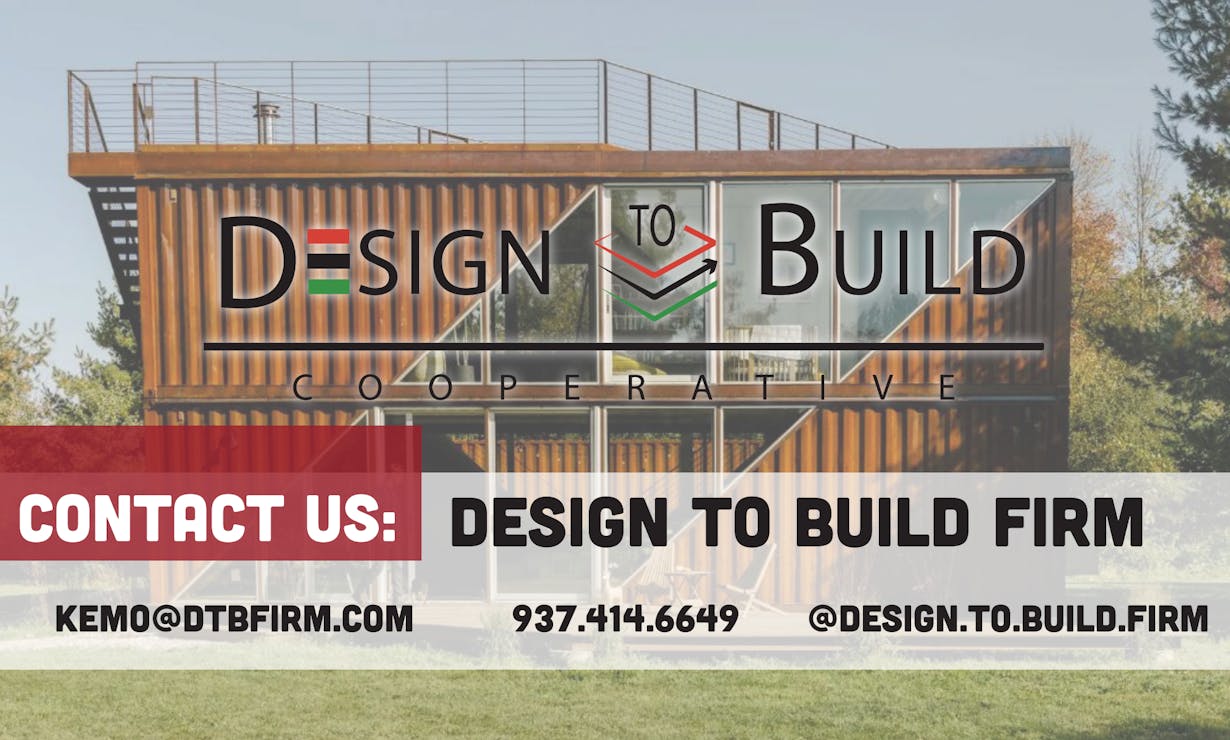 FAQs
Why do you build structures from steel shipping containers?

The steel intermodal-shipping container (ISC) was designed to simplify and streamline long-distance shipping in the era after World War Two, and there are millions of these containers in existence, with many out of use. In recent years, architects and builders have come to recognize that these versatile strong platforms represent a way to unite environmental concern with structural integrity. Disused containers can be sustainably recycled into real estate, eliminating waste.
Is cargo/shipping/intermodal container architecture appropriate for affordable housing?

The best answer is "Maybe." Affordability is a flexible concept, depending greatly on regional and local real estate valuations and trends. For example, in the Upper Midwest, where a Victorian can be obtained for less than $100,000, including land, it would be difficult to produce an ISC-based home with as much space for that cost. On the other hand, in markets where real estate is dear and zoning makes land expensive, ISC homes can be a viable alternative to stick-built, especially in jurisdictions that specifically allow for micro-housing.
Can you give me an example of affordable housing projects?

In places such as the Pacific Northwest, Silicon Valley, and the Northeast, prices are high and zoning is tight, so new construction is both rare and expensive. If one can add a two-bedroom home to an existing property in the San Francisco area for less than $200,000, this represents a significant savings of as much as 90% from the existing market rate. Groupings of such homes could represent a very viable rental investment. In such areas, steel shipping container homes can become a bridge to homeownership for young people, and can assist municipalities experiencing housing shortages. In such regions, ISC homes are a viable affordable housing concept.
FAQs
What should I know about zoning?

Even if your area does not allow microhousing, it may be possible to add  an ISC building to your current property, or to get an ISC home approved  on developable vacant land. DTB recommends that our potential customers  begin the investigative process with the relevant municipal zoning and  planning departments before truly contemplating a purchase. In many  jurisdictions, if your project is less than 200sf there is no permitting process  required. 
Are there barriers to ISC home construction?

There are several elements that can increase the cost of an ISC-based  building. 

• Container-based construction does not reduce the cost of permit-required  components inside. 

• Micro-home appliances are less common and micro-sized, making them  more expensive than appliances found in stick-built construction. • The steel container conversion adds some costs, such as adding  insulation, floors, doors, and windows. 

• Steel ISCs are very heavy. 

These issues are often surmountable, so long as the regional cost ratio  remains favorable. 
FAQs
Why select cargotecture for my micro-home, retreat, DADU, or home office?

Our team has is a consortium of leaders in the ISC-construction industry for  over a decade as well as several decades of general construction &  development, and this experience makes our designs a cut above in style,  utility and sustainability. A cargotecture home or office is sustainable, smart,  modern, and durable enough to last several generations - not to mention  just plain COOL!

Benefits include: 

• They can be relocated (including their foundations), so they can be moved  from season to season, turning from fish camp to surf shack. • They can be secured against intruders and storms. 

• They are nostalgic for their globetrotting history. 

• Architecture critics love them. 

• They travel easily on typical trucks, ships, and trains. 

• This is a unique luxury retreat that can be a transferrable asset for many  generations. 
I am a do-it-yourself builder and would like to use your construction documents. Can you help me build my own?

On a case-by-case basis, we provide contractual ISC construction  consulting services. We have worked with engineers, architects, builders  and do-it-yourselfers with great results. Please contact us to discuss our  models, plans, and options. 
FAQs
I live in an extremely hot and cold weather environment. Are your designs fully insulated? Would these homes be able to handle these extremes?

Yes. All our models are insulated about 15% above IBC and UBC building codes in the floors, walls and roofs. The building can be placed in cold, moderate and hot climates. The recycled plastic and soy sprayed-in insulation is more than sufficient for most climates — R24 walls, R 44 ceilings, and R32 floors. The roofs can handle 60psf snow loads
FAQs
How much will shipping the cargotecture from the factory cost?

Shipping tends to be approximately $1.20 per mile per truck (up to 40' on  one truck). If you provide us with your zip code and address we can offer  an accurate delivery cost to your location. 
What kind of foundation is recommended?

The foundation depends on the soil and terrain on which you will be placing  your cargotecture structure. Proper foundation configurations are important.  Your local contractor/ engineer must approve them with your local planning/ zoning/building department. Full detailed drawings will be available once  your order has been initiated. These drawings will assist your contractor in  determining the right foundation for the terrain. 

DTB recommends diamond-shaped pre-cast concrete/steel foundational  piers (examples can be seen at www.pinfoundations.com). They are less  expensive and more green than a site-poured slab and they have been  approved in seismic, frost, flood, high wind zones as well as areas with  poor soils. DTB procures these with cargo container locking mechanisms  already installed. They come shipped with the unit at an average cost of  $220 per block and most homes require a minimum of 6 blocks. 
Is the installation included?

If you are located in the State of Ohio, our construction arm can build your  foundation and set the home. If out of the area, we will assist you in  selecting a contractor that can build your foundation and hook up your  sewage and electrical systems. The final installation needs to meet local  code requirements. 
FAQs
Do you have awnings for outdoor living, and decks to expand my livable space?

Awnings are available as an option for passive heating and cooling. These are available in 15'x10' sections. Decks are available in a 12 x 20 size, with customization additional.
What additional options, such as roofs for green roof gardening, are available?

There are several. Please contact us for specifics. 
Does the purchase price include all the electrical/water/washroom installations/connections?

Yes! Our homes are shipped complete, including plumbing if your model  has a kitchen or bath. It is a complete inspection-approved move-in ready  home, requiring only foundations and electrical/plumbing hookup.  Permitting is also additional, but in many jurisdictions, if your project is less  than 200sf there is no permitting process required. 
Where do you deliver?
Are you in a position to build with my own designs? What is maximum size that you can do?

We can do some minor customization. The cost will be quoted on a separate basis and it can increase the time to complete the drawings. Please contact us about "custom designs" for more information.
Letter to Investors:
I have been a founder and creator my entire life but I initially became engrossed in the  work with a rude awakening. The summer after high school graduation, my biological father misappropriated the educational loan he'd borrowed for my university tuition. This forced what I now know to be referred to as a "pivot". It was 2003 and with my plans for transitioning into  adulthood being completely upended, which came to ultimately be for the best, I began a down path of impact entrepreneurship.  
That following fall season, I happened to be introduced to "Rich Dad, Poor Dad" by Robert  Kiyosaki. It was at this moment that I decided I would use entrepreneurship as the driver for practically lifting disadvantaged communities of color out of abject poverty. I pledged to  become an expert in real estate investing/development, personal/business credit, financial  markets and starting/scaling businesses. 
That was 18 years ago. Since then, I've launched and scaled several startups, profitably speculated the financial markets since 2006, built up my personal and business credit to six  figures each and have been real estate investing, full-time, since 2014, completing numerous  wholesale and rehab deals while raising hundreds of thousands of dollars from private  investors. 
One would think such achievements were the end goal. However, my focus has always been  liberation for The People via economic/community development. This can readily be confirmed  by the countless testimonials of others, to whom I've imparted the wise counsel of my serial  venturing, from similar communities to achieve the same in ALL aforementioned areas of focus. 
From the onset, real estate investing was only meant to be a segue to the greater related  industry of real estate development. The well-known barriers to entry for such an endeavor are  obvious: one typically must already be flush with ridiculous amounts of cash, (wo)manpower, equipment and influence. Given these challenges, the seemingly boundless creativity with  which I'm afflicted brought me to modular prefabrication and thus, Design To Build was born. 
The overarching mission of Design To Build is to provide a practical and scalable approach to  developing and constructing sustainable and affordable real estate to realize social, commercial and environmental paradigm shift. Our vision is be the leader in factory built  housing for disadvantaged communities the world over, in urban environments, rural areas, any  terrain, climatically and fiscally alike. 
Currently, there are two shortages that feed off one another: affordable housing and skilled  blue-collar labor. Higher costs in construction due to labor scarcity is a major factor responsible for recent home price gains. These increases have in turn reduced housing  affordability to a 10-year low, according to the NAHB/Wells Fargo Housing Opportunity Index. The index shows that only 57% of new and existing home sales were affordable for a "typical" family during the second quarter of 2018. 
The effects of the scarcity and higher cost of workers are clear. The NAHB data indicates  longer build times, more delays, and higher costs for workers and subcontractors. As a result, industry discussion around solutions is in full swing: recruiting the next generation of workers,  expanding the labor pool (only 9% of the construction sector currently consists of women), and  investing in new building systems and methods to improve worker productivity. It's worth  noting that worker productivity in home building has grown by only 3% in the past 25 years,  compared with 34% for the overall economy.
The industry must make progress in all of these areas—no single solution will be sufficient. Expanding the labor force without improving productivity will help in the short-run but would  result in higher costs in the future. Modular and prefab sectors are one possible source of  productivity gains but they each only make up 2% of the single-family market currently,  presenting a monumental opportunity for factor-based growth of the industry in which, we  believe, we're at the precipice. 
Our approach is to assemble and galvanize a team of some of the most experienced  development/construction professionals that we could and establish an organization that  would allow us to address both the shortage of skilled labor as well as cost-prohibitiveness of affordable and sustainable development and construction, while greatly benefiting the worker owners involved in bringing about such a catalytic shift. 
We officially launched in January of 2019 and through Covid, racial tension and a tumultuous presidency and political landscape. We incorporated in the summer and have officially acquired a 55,000 sq ft warehouse as our fabrication facility, positioned on 5.5 acres with 50+ parking spaces, allowing us to accommodate all of our staff as well as storage of ISBU units, between their raw to finished states.
Our goal is to produce 100 units the first 12 months of operation and scale rapidly to establishing other mod-fab facilities in surrounding small to medium sized cities, with the highest concentrations of disadvantaged communities to support underrepresented populations.
- Kémo A'akhutera, CEO
See who invested:
I believe in the company's vision and I'm excited about part of something so great for our community.
- Tonnisha F.
The hard work and dedication. I'm proud of the growth and commitment shown.
- Derrick A.
I believe in the work and innovation they are doing for the community!
- James J.
With the global container homes market slated to reach $6 billion by the end of 2024, i wanted to get in on this as early as possible. I made the decision to invest in Design To Build because I believe in their mission and the notion that prefabricated housing can pave a way for grassroots development and ownership. Furthermore, as a young entrepreneur and soon-to-be new home builder, I was looking for ways to diversify my own investment portfolio while also supporting a cooperative economics landscape that will help bolster diverse and historically overlooked and underfunded communities. I found the perfect company doing exactly that.
- Lyndsey D.
I have Power of Attorney over 173 acres of land and look forward riding the the modular home wave
- Will R.
I believe in the company, the vision, and foremost: the CEO.
- Qarrianne M.
Love the vision
- Amaha S.
Devin T.
Good luck, Kémo.
- Nicholas H.
I'm bought into the future that's being presented and look forward to it coming to fruition.
- Andrew Y.
I'm a big fan of alternative living, off grid or on. When I'm able will inquire about a build for sure .. All the best my Brother!!
- William B.
Co Relation Personal Interest
- Janene P.
I believe in the vision of the founder!
- Terrance W.
I believe in Kémo and his vision for DTB.
- KeAnna D.
I've had my money on Kémo since day 1! #IYKYK
- Bennett C.
Very persuasive article by Mr. A'akhutera in Dayton Daily News on Sept 4, 2022.
- Peter Z.
I'm investigating because it sound pretty incredible, for many reasons
- Jason L W.